It is not unheard of for Eminem to do a collaboration but this next album appears to have quite a few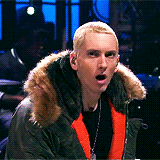 12/15 pic.twitter.com/zUCLSbY8mN

— Marshall Mathers (@Eminem) December 5, 2017
Beyonce, Ed Sheeran, Alicia Keys, X Ambassadors, Skylar Grey, Kehlani and P!nk!! 
Some fans were thrilled, while others…not so much
Eminem got Pink, Kehlani, Ed Sheeran and Alicia Keys on the album? Nah, he can keep it. This ain't the Eminem I'm here for

— Prince Vegeta (@Presh_Frince) December 5, 2017
I never thought I'd see the day where Eminem did a track with Ed Sheeran and now I'm mad that I will. https://t.co/WbtxGTXiH6

— Last Jedi Hype Train (@CASHEWJUlCE) December 5, 2017
Eminem featuring Ed Sheeran… 2017 is weird https://t.co/Na1JWDDuJ1

— Luca (@FearTheKirch) December 5, 2017
But some people were excited
The collaborations are just outta this world (never thought of most of them). maybe he is dropping it late cause of them. https://t.co/9O0nGefikt

— 12/15 (@ShadyXbarca) December 5, 2017
Eminem feat. Ed Sheeran my life is about to be completed https://t.co/mz8Iccy6CS

— Matty. (@ImMattyTaylor) December 5, 2017
Revival is out December 15!